Pediatric Advanced Life Support (PALS) Course time: 10-12 Hrs.
Pediatric Advanced Life Support (PALS) is a classroom or online-blended, video-based, Instructor-led course that uses a series of simulated pediatric emergencies to reinforce the important concepts of a systematic approach to pediatric assessment, basic life support, PALS treatment algorithms, effective resuscitation and team dynamics. The goal of the PALS Course is to improve the quality of care provided to seriously ill or injured children, resulting in improved outcomes. The PALS Course is for healthcare providers who respond to emergencies in infants and children. These include personnel in emergency response, emergency medicine, intensive care and critical care units such as physicians, nurses, paramedics and others who need a PALS course completion card for job or other requirements.
Features
Classroom-based works well for learners who prefer group interaction and instructor feedback while learning skills'
Co-branded with the American Academy of Pediatrics (AAP)
Course uses learning stations for practice of essential skills simulated clinical scenarios that encourage active participation
Hands-on class format reinforces skills proficiency
PALS Online HeartCode is the most high tech, official American Heart Association (AHA) Self-Directed Comprehensive eLearning Program option for recognizing and preventing cardiopulmonary arrest in infants and children. PALS Online HeartCode allows students to take the PALS course on a computer, instead of attending a traditional, classroom based course. PALS Online HeartCode uses simulation technology and scenario-based learning, that in studies has been shown to be very effective.  Students then attend an in-person skills session (Parts 2-3) to ensure practice (Part 2) and evaluation (Part 3) of their PALS skills to complete their certification.
Students receive a two-year certification card through the American Heart Association upon completion of the course. 
This class is appropriate for:
-Emergency medical professionals
-Pediatric healthcare professionals
-Critical care professionals
-Intensive care professionals
-Other healthcare professionals who respond to emergencies in infants and children (pediatric patients)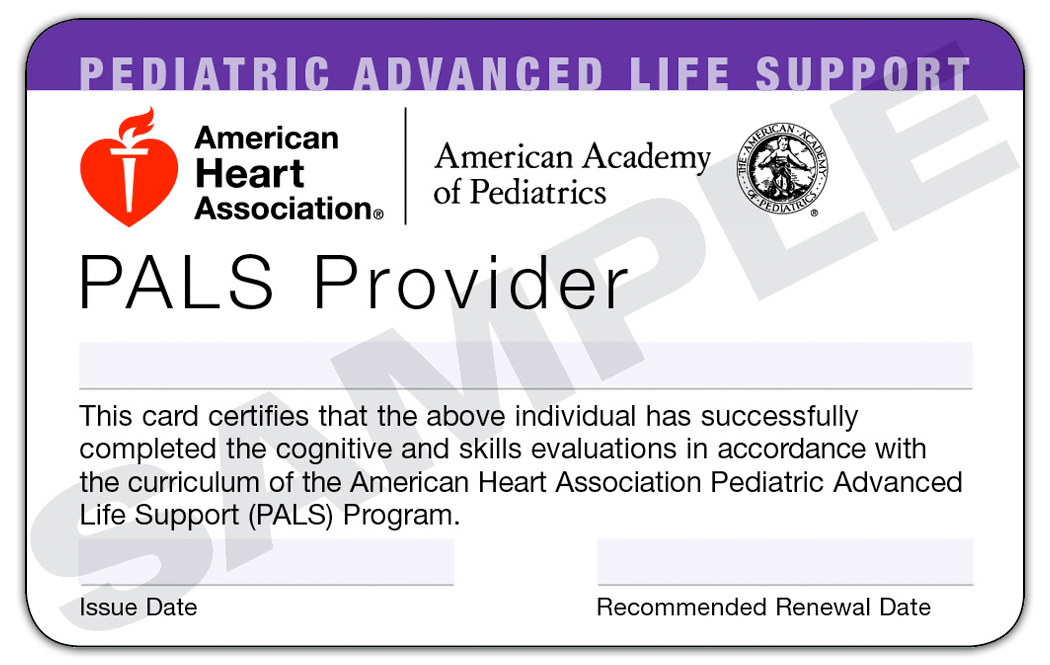 Disclaimer: The American Heart Association strongly promotes knowledge and proficiency in BLS, ACLS, and PALS and has developed instructional materials for this purpose. Use of these materials in an educational course does not represent course sponsorship by the American Heart Association. Any fees charged for such a course, except for a portion of fees needed for AHA course materials, do not represent income to the Association.
*Check with your employer for certification requirements or call us at 205-440-1000.