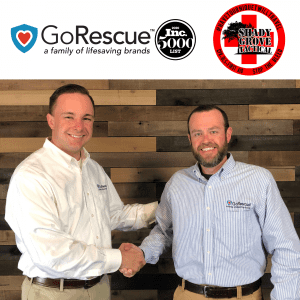 (pictured are L- Brady B. McLaughlin (CEO of GoRescue Brands), and R- Jacob Fannin (former owner of Shady Grove Tactical)
Troy, AL – GoRescue Brands, Inc. is excited to announce the acquisition of Shady Grove Tactical, LLC, and the hiring of it's owner, Jacob Fannin.
Shady Grove Tactical was launched in 2015 by public safety and training professional Jacob Fannin to deliver Stop the Bleed, CPR, First Aid, and AED training across Alabama, Florida, and Georgia. Based in the heart of the Wiregrass Region, Shady Grove Tactical trains individuals and corporations including Sister Schubert Rolls, Allied Universal, Troy University, and Kimber Manufacturing.
Shady Grove Tactical has grown to become the largest provider of community CPR, AED, First Aid, and bleeding control training and products in southeast Alabama.
Shady Grove Tactical's clients will now be served by GoRescue. Although the brand name Shady Grove Tactical will transition away, the same levels of personal service for existing clients will be fulfilled via GoRescue's brands and customer service team.
GoRescue's strategic acquisition signals a strong commitment to the expanded delivery of lifesaving solutions to all areas of Alabama, a state which leads the country in deaths from sudden cardiac arrest and heart disease. "Leveraging Jacob's passion for CPR AED in the fight against sudden cardiac arrest will further enable GoRescue in achieving our vision 'to deliver exceptional lifesaving solutions'," shares Brady McLaughlin, CEO of GoRescue.
GoRescue also hired Fannin full-time as a Regional Lifesaving Specialist to ensure a focused approach in fulfilling the needs of clients across the region, McLaughlin said.
Fannin brings an unparalleled passion for seeing lifesaving products and training pushed far and wide to as many people and organizations as possible. His professional experience includes nearly two decades of service with the City of Troy involving public safety and risk management. He holds three professional health, safety, and risk management designations in addition to dozens of certificates in emergency response, public health, fire & rescue, instructor development, and special response areas.
In 2018, Fannin also worked with Alabama Governor Kay Ivey's office to officially recognize Stop the Bleed week in May of each year statewide. Fannin served as the Alabama Stop the Bleed Coordinator responsible for training hundreds of citizens on how to treat the #2 cause of preventable death: uncontrolled bleeding.
About GoRescue Brands, Inc.
Founded in 1997, GoRescue Brands, Inc. is a family of five lifesaving brands each focused on preparing people to save lives every day. GoRescue specializes in the full deployment of lifesaving products, services, and training for individuals and organizations.
Stop Heart Attack | AEDs and accessories, including ALS medical devices
Trio Safety CPR+AED | CPR, First Aid, and advanced lifesaving training
Bleeding Control Kits | specialized bleeding control kits and solutions
AED365 | full-service AED program management and medical direction
Lifesaving Summit | dynamic conference to propel the lifesaving industry
GoRescue employs nearly a dozen full-time team members based in our Birmingham, Huntsville, and Montgomery offices across Alabama. Every year, GoRescue serves tens of thousands of clients with life-saving training and products, making GoRescue the #1 provider of lifesaving solutions in Alabama.
Executive Leadership
Floyd Larkin – President
Brady McLaughlin – CEO
Malynda McLaughlin, VP